It's been an incredible year! I never would have guessed when I set off from Norfolk in summer 2017 on 'Bluebell's Busking Bonanza Tour', travelling at 10mph by milk float from Norfolk to Land's End to raise money for Cancer Research, that I'd end up doing a Master's Degree in Songwriting at Bath Spa University!
The year has flown by, and I've learnt so much about songwriting, surrounded by some fantastic tutors and songwriters, and by simply having the time to devote myself to the study of my craft. It's an exciting time for me - returning to my Norfolk home I have plans to start a social enterprise recording studio and record label, teaching songwriting and making CDs for young and disadvantaged people in the North-Norfolk area.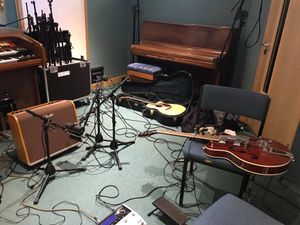 Recording at Bath Spa University studios
I've also been busy writing and recording the songs for my new album, which will be released in spring 2019. I feel it's my best work yet, and am really proud of the songwriting and production on the album. I was fortunate to be able to take advantage of the talent on offer at the university, with some amazing musicians performing on the album, including Rob Brian, a Grammy-winning drummer whose credits include playing on Goldfrapp's last album.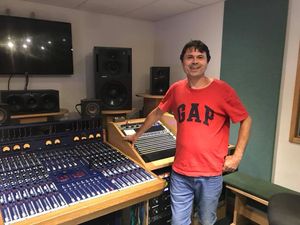 Gap year!
I'm also pleased to report that Bluebell has now made it safely back to Norfolk, and we will be continuing to slow the traffic down on the Norfolk roads for the foreseeable future!