It's been an incredible start to the tour, so much has happened since I set off two weeks ago on a rainy Friday afternoon from Sheringham, to go and do my tour launch at the Harnser in Cley-next-the-Sea. Lots of good wishes and farewells from friends and family, and a slight feeling of trepidation the next morning as I left the North-Norfolk coast behind for the long journey to Land's End. 
My hosts the following night, The Ostrich Inn at Castle Acre, had forgotten I was coming, so it was a good job I phoned ahead to let them know I'd be arriving in a milk float later that day! Rosie, the bar manager, did a fantastic job rallying round some last-minute support, and we had a decent crowd with plenty of donations to Cancer Research, and a booking for me to return at the end of August for their bank holiday beer festival. 
From Castle Acre I made my way through the Cambridgeshire Fens to a gig two nights later at The Blueball Inn, stopping in Cambridge to do a radio interview for Cambridge 105 on the way. I played a song I'd written for my dad 'A Suitcase Full of Memories' live on-air, and both myself and the presenter Leigh were having to choke back tears by the end of the song. Afterwards, I went in search of a fancy-dress shop as I thought it would be fun to get a milkman's outfit. The only thing I could find that I liked was a rasta hat with a dreadlock wig attached, so I bought that and started dreaming up an imaginary roadie who'd be joining me for the tour, Milk Float Rasta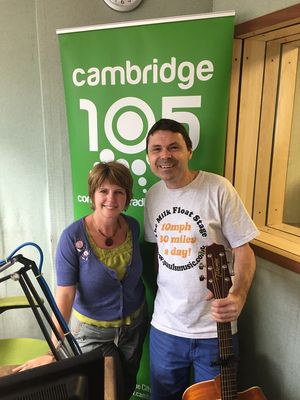 My next gig was the most unusual so far, in front of some concrete cows at Milton Keynes Museum. I wanted to make a video of me playing a song next to the iconic cows, which the museum had kindly agreed to, and I was soon joined by a large group of schoolchildren who were visiting for the day. After more cross-country travel, I arrived in Oxford two days later for my gig at the Tap Social Brewery, a fantastic brewery that is also a social enterprise helping people back into work.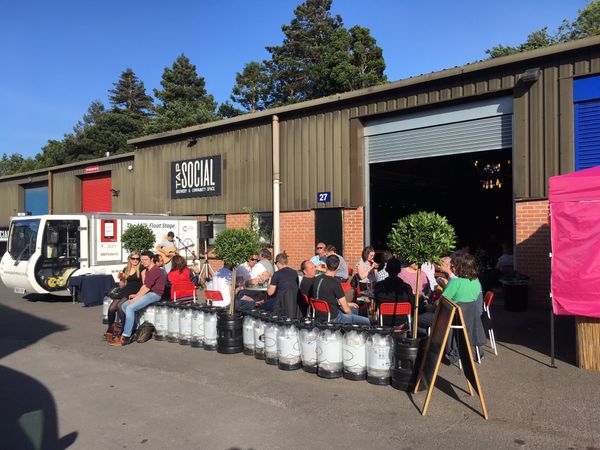 I had a slightly petrifying experience afterwards, when the Sat-Nav guided me from a nice country lane directly onto the A34, with oncoming cars approaching at 80mph. Luckily (but not for the drivers behind me) the road funnelled into a single lane due to road-works, and I drove for another two miles with a massive queue behind me, until I turned off for my campsite, giving the road-workers a big thumbs-up which they found hilarious! 
I was up early the next day to get to my gig at Radcot Festival of Classic Speed (ironic I know!), organised by a friend of mine, Mike, who'd done some of the conversion work on Bluebell when I bought her two years previously. There was a fantastic display of vintage motorbikes and cars at the festival, and after playing some music, Alan the landlord of Ye Old Swan Inn across the river asked if I'd do a gig for them in the pub garden the next day. When I tried to park Bluebell parallel to the garden, Alan decided that we needed to get rid of a couple of bollards in the layby so that Bluebell could get in closer, and produced a chain-saw! Mike's daughters, and Zoe who was running the BBQ, went round with my Cancer Research bucket, and I raised over £100 in an hour.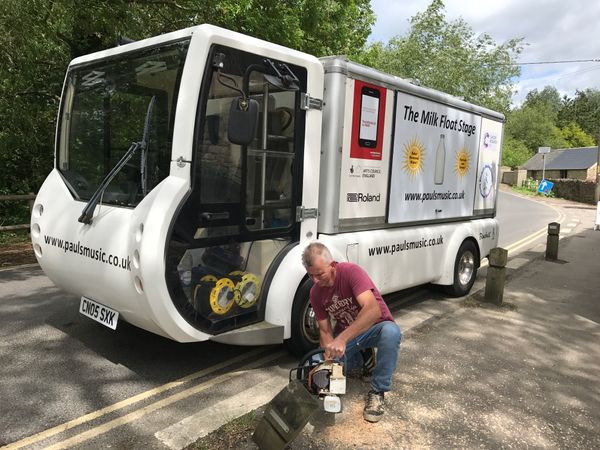 I've been overwhelmed by the generosity of the people I've met so far, from campsite owners returning my fees and putting donations in my bucket, to an elderly man in the queue at the bank who I'd said could go before me, and who then came up to me afterwards and gave me a £20 donation after I'd told him about my mad-cap quest to reach Land's End at 10mph.
I've started doing Facebook Live videos (and so has Milk Float Rasta - send him a song request to play live from Milk Float HQ!!), and if you haven't already done so I'd really appreciate it if you could like my Facebook Page, and share some of my posts to help spread the word. The fundraising is going really well, with almost £1,000 raised so far, and it should be another great weekend at Stroud, with a street party on Friday, and 'The Bluebell Music Festival' (named in our honour!) at the Subscription Rooms in Stroud on Saturday, where I'll be joined by some fantastic local singer-songwriters.