After playing at Radcot Festival of Speed I took the opportunity to get some new batteries fitted to Bluebell, as the company I bought her from, CBL Electric Vehicles, were based just down the road at Bampton. While the batteries were being fitted I caught a bus to Witney, and realised I'd become truly acclimatised to travel by milk float when the bus hit 50mph and my stomach started churning because it felt so fast!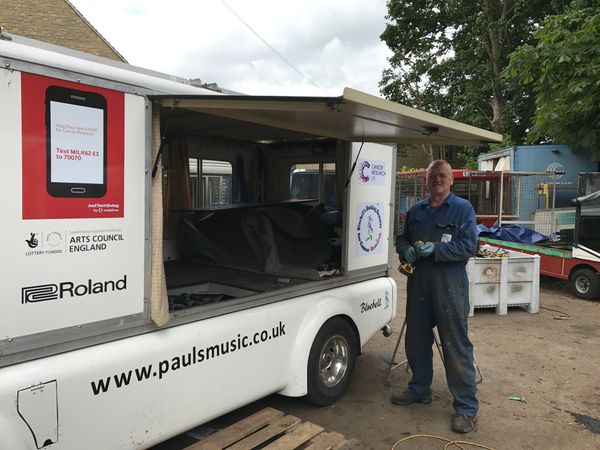 I can't describe the simple joy I experienced the next day when I managed a whole journey without the battery meter flashing red for the final few miles. My smart new batteries can do up to 50 miles on a charge, and I'm going to need them, as from Oxfordshire onwards the hills have been getting steeper by the day. 
I had a fantastic time the following weekend in Stroud, playing a street party for a friend who'd invited all her neighbours, and then doing an all-day music event outside the Subscription Rooms, where I was joined by some exceptionally talented local performers from the area. Overall, £500 was collected during the weekend, which is an amazing contribution towards my goal of raising £5000 for Cancer Research.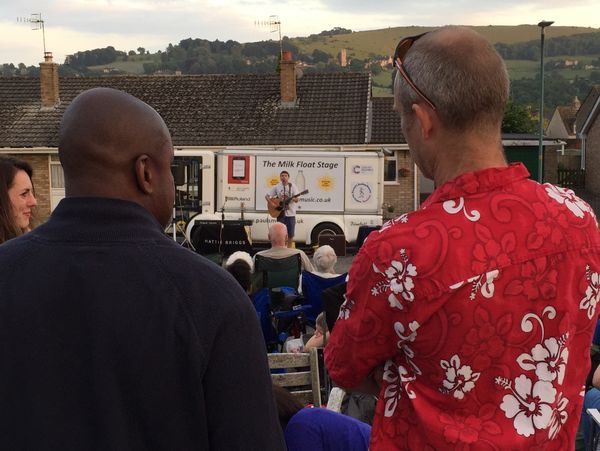 On my way from Stroud towards Glastonbury, I stopped at a beautiful little village called Woodchester to visit a Great-Great-Aunt that I'd never met before, who had recently reached her 100th birthday. It was fascinating to learn some more about my family history, and Aunty Clare (for short!) also thought my fundraising tour was brilliant. From the Cotswolds I made my way to Glastonbury for a Midsummer Night's gig at The King Arthur pub. It was somewhat of a squeeze fitting Bluebell into the old coaching alley, but she just made it, and I even managed to sleep in there (in the milk float not the alley!) after doing my gig in the pub garden.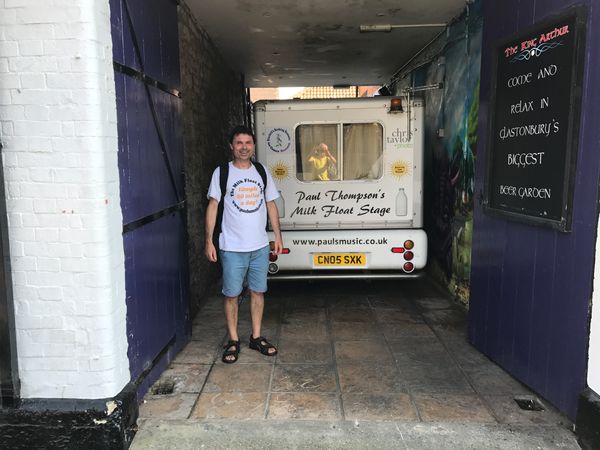 I travelled through some incredible countryside on my way to Dorset Midsummer Festival the following weekend, passing lots of quaint thatched cottages, and climbing the biggest hill of my tour so far, Bulbarrow, near where the festival was being held. I was playing Friday and Saturday at the festival, and had some fantastic helpers who went round the whole site collecting with my Cancer Research Bucket. Bluebell proved to be a big hit with the festival goers, and lots of new friends were made as well as money collected for a good cause. 
From Bulbarrow, I backtracked to Wiltshire for a weekend of gigs at the Barge Inn at Honey Street, stopping for a few days on the way at Wookey Hole in Somerset, where I'd lived when I was studying Creative Writing at Bath Spa University. Some much needed rest was taken, and I had a nice time walking in the Mendip Hills as well as doing some busking at Wells Market. AfterThe Barge Inn, I did an impromptu gig at Stone Henge Camp Site, and spent three days travelling cross-country to Charmouth, where I've just spent the weekend.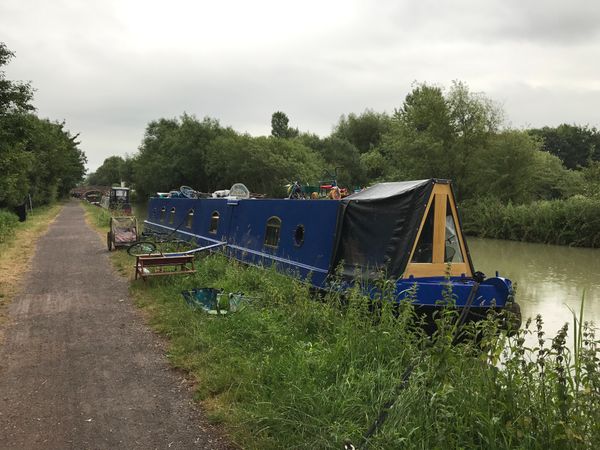 The hills getting here were much bigger than I'd expected, and I got stuck twice on the way (I had to reverse back down the hills and go another way), and then I got stuck again on the final hill to my campsite. Luckily, the farmer was willing to come and give me a tow the final half mile, but Bluebell and I have even bigger hills to face between here and Land's End. I've just set up a Facebook Group Let's Get Bluebell to Land's End – For Cancer Research, so please add yourself to it and share with your friends if you know anybody on our route that might be able to help tow us if we get stuck. All the details of our route and gigs are on the Facebook Page, and also at my gigs calendar, www.paulsmusic.co.uk/calendar.
So far a massive £2000 has been donated at gigs for Cancer Research – thank you everybody for your generosity. If you can't make it to a gig but would still like to donate, you can do so at my JustGiving Page here: www.justgiving.com/fundraising/paulsmusic