It's been quite a journey! 
After finally reaching Land's End in Bluebell at the end of July, and having got stuck on just about every hill in the West Country along the way, it was time for a well-earned break. Almost 40 gigs in two months between Norfolk and Cornwall, travelling every day at 10mph by milk float for my fundraiser for Cancer Research had left me proud of my achievement but exhausted, and I decided to stop off in Somerset on the way back for a couple of weeks.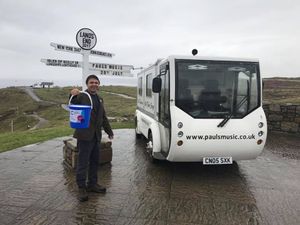 I believe everything happens for a reason, and while I was taking a break I suddenly remembered about a Songwriting MA course that Bath Spa University run (the first of its kind in the world), which I'd often wondered about applying for. On a whim, I filled in the application, and a few days later received an enthusiastic email from one of the tutors, ex lead-singer from All About Eve, Julianne Regan, who said she'd really enjoyed listening to the songs I'd submitted for my application.
A week later I received confirmation that I'd been accepted onto the course, and never did make it back to Norfolk! My next step was to consider where to live for the year - shared accommodation would be difficult because I needed somewhere to write music and record, so I came up with the idea of buying a motorhome and converting it into a studio.
After purchasing a Swift Kon-Tiki (officially named Gulliver - think Swift / Gulliver's Travels!) I managed to persuade Sound on Sound Magazine to help with the conversion for one of their famous 'Studio SOS' features. Editor, Paul White, fortunately lives in Malvern which isn't too far from my base camp, and he invited me to come and park at his house for a day, where he also has his workshop.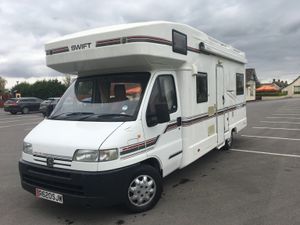 Paul is a true gent, and an absolute fountain of knowledge about recording. We spent the day fixing some monitors to ceiling mounts, and building a work-station for my keyboards and recording gear. Since the makeover I've also added some extra acoustic treatment, and built another desk which sits on top of the original one.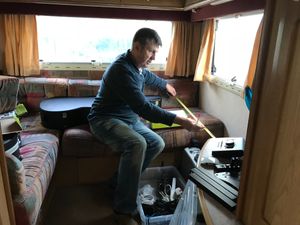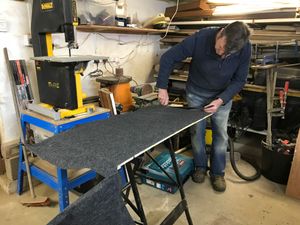 Gulliver is proving to be a very inspiring space, and I currently spend my days writing and recording the songs that will become my next album, gazing out of the window at the beautiful Mendip hills beyond. When I left Norfolk at the start of June, I never guessed that I'd be here doing this - you just never know what's round the corner in life!