It's been a busy few weeks. There's so much to think about when you start planning a tour that sometimes you forget the reason you're doing it – which is to play music! So it was nice to get away from the computer a couple of weeks ago and head over to Great Yarmouth to perform in Folk in a Box for the Seachange Arts Festival.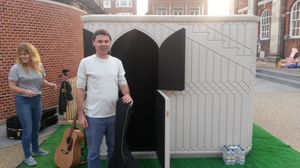 The idea is simple but ingenious, a wooden box with room for one performer and one audience member, playing one song in near complete darkness. I'm glad I rehearsed in a darkened room beforehand as I really couldn't see any of the frets on my guitar and had to do it from pure memory, but it was an enjoyable and powerful experience, and one audience member left in tears (although she was 4 years old so I'm not sure that exactly counts!).
 
Things are progressing nicely with the milk float and I've had some fantastic publicity this week. I was whisked away by the EDP to the Milk and More depot in Norwich to do a photo shoot last Wednesday (my milk float is in Oxfordshire where it will remain while the conversion work is being done). Antony the photographer kindly offered to also do a short video, and Graham and Peter the managers of the depot showed us round afterwards, and gave us each a £10 voucher for our first order with Milk and More!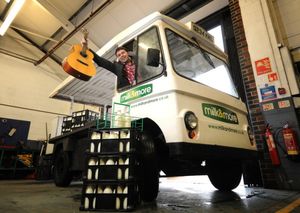 The next day it was back up to Norwich to appear on BBC Radio Norfolk. I did regular phone-ins to the Stephen Bumfrey show on my last tour of Alaska and Canada, and it was great to catch up again. Stephen's first question was 'Has anyone ever told you that you're completely mad?'!! Well, yes Stephen, they have, but I'm not going to let that stop me from travelling round Britain at 10mph just for the fun of it am I?! Stephen and producer Thordis did seem to genuinely love the idea of the tour, and want me to do a live send-off from outside the Forum in Norwich, and I'll also be doing phone-ins during the tour.
 
I've also got my first booking of the tour, at the Green Britain Centre in Swaffham. One of my aims of travelling by milk float is to do the journey in an environmentally-friendly way, and the Green Britain Centre has been one of the pioneers of green technology in this country. They have groups of school parties regularly coming on educational visits, and I've agreed to run a song-writing workshop for them in the morning with a theme of using the senses to appreciate nature. I'll be doing a short performance for the children at lunch time, and then the main concert in the evening either outdoors or in their theatre.
 
I've been plotting my tour route in more detail, which is starting to look rather exciting (and a little daunting), as I'm planning on travelling as far as the Outer Hebrides and finishing with a string of shows at the Edinburgh Festival. More on that in my next blog  instalment...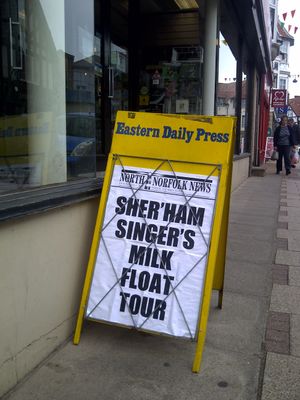 Fame at last! Outside Betram and Watts Books in Sheringham.