My host for the first few days on the Isle of Harris 'Grannie Annie' was a big music fan who had heard about my tour via Facebook and invited me to stay. I was made to feel extremely welcome by Grannie Annie and her husband Rob, who had moved from Wales after falling in love with the place whilst on holiday. Harris has one of the most incredible landscapes I've ever seen, which constantly changes from wide Atlantic vistas with pure white sands, to winding mountain roads lined with macchair (fertile soil with native flowers such as orchids, corn marigolds, Lady's Bedstraw,  and bog cotton), and then it rises up into a totally alien landscape of huge boulders covered in lichen and heather, that look so strange it was used as a filming location for the move '2001: A Space Odyssey'.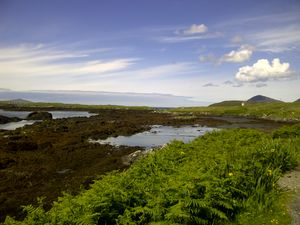 After doing a couple of gigs in Leverburgh and Tarbert I dedided to return to Uist to catch a ferry to Skye, as it was a much flatter route for Bluebell.  I still had to climb a really steep road following the cliffs out of Uig, the northern port on Skye, and I just hoped that nothing was coming the other way because if I'd stopped I would never have made it to the top! I had several gigs lined up on Skye, the first at the Flodigarry Hotel, a beautiful old fashioned Scottish Hotel, with modern interior design influenced by the Dutch owners. It was lovely driving back to my campsite after the gig through the mountains, with the silver sea in the moonlight and the occasional light of a boat and lighthouse flashing across the water.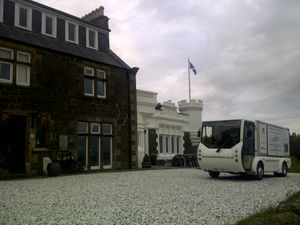 The next day I was due in Portree, where I would be performing at the Aros Centre. I was being joined for the week by Daria Kulesh, a Russian singer-songwriter now living in England. After catching up with Daria and her husband Julian, we set about the monumental task of getting Bluebell onto the stage. Ruaridh the technician / sound engineer at Aros had suggested the idea, as the side doors to the theatre lead directly onto the stage. It took 6 men to move a massive wooden statue off  the forecourt so I could reverse Bluebell in, but all went surprisingly well and she looked fantastic by the time we'd finished with spotlights on her and even pot plants either side to complete the picture!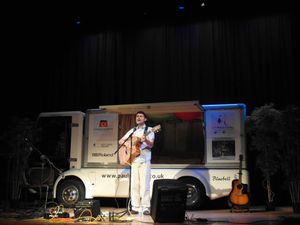 After the gig at Aros I spent a couple of days travelling across Skye to get to Armadale, where my ferry to the Isle of Rum departed. I'd also been joined by my brother, his wife, and my 9 year-old niece Anna, who especially loved riding in the milk float as we climbed on and off our ferries to the Isle of Rum. Vehicles aren't normally allowed on Rum as there are no roads, only winding forest tracks that lead around the edge of the island. I'd received a special permit for Bluebell as I was going there to play music in the village hall, and it was a really  special night, with myself and Daria performing, and a guest appearance by my niece Anna, who is a wonderful singer and did a solo version of a song from the musical 'Annie'. 
I almost missed my ferry the next morning as I realised just as the ferry was pulling in that I'd left a box with all my music cables back at the village hall. It was too late to get back there in Bluebell, so I managed to get a lift with a local in his pick-up truck and we raced down the forest track to the hall and back. I was already  flustered by the time I tried reversing Bluebell onto the ferry, and she got stuck halfway up the ramp. I had to go back down and take a reverse run-up to get some speed, and my heart was in my mouth as I couldn't see properly in my mirrors at speed, and just hoped that I'd got my line right - otherwise I would have been overboard into the Atlantic! 
Needless to say I made it onto the ferry back to Skye, where Duncan MacInnes, a local music promoter, was waiting for me with a crowd of about 100 people ready for a music performance on the ferry terminal car park. Daria and I did a great gig that night at an eco camp site-come-forest garden, called Rubha Phoil, playing in the workshop which had been  made into a temporary venue. More and more people kept piling in until it was jam packed, and we had to bring in extra seats in to accommodate everybody.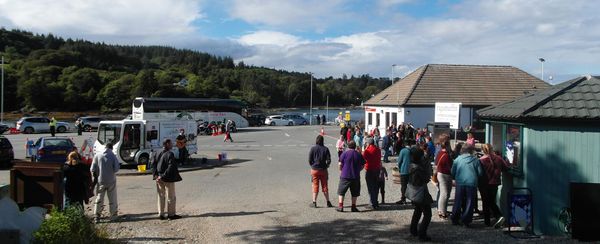 Duncan and his wife Polly were great hosts and kept us well fed during our stay in their beautiful house just outside Armadale, with rambling gardens that led down to a little beach. I did a lunchtime gig the next day in a converted church that was holding an art exhibition, and then returned to Duncan's to play a house concert that night. My final gig in the Skye area was at Kyleakin, just before the Skye bridge, at a back-packers inn called Saucy Mary's. It was Daria's last night on the tour, and we were very well looked after by the staff and had a nice gig. 
From Kyleakin I made my way over the Skye bridge (which is spectacular and highly recommended at 15mph!), towards Dingwall, near Inverness. I have a few gigs lined up here over the coming week, leading up to a big music festival called Belladrum on 7th and 8th August, where as well as performing I'm going to be running a busking stage. It's going to be a blast!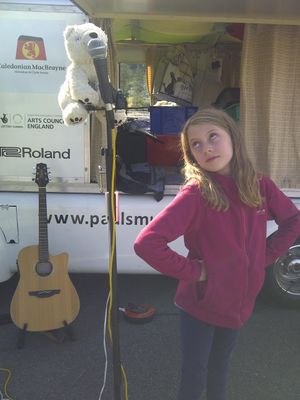 Anna Thompson with Special Guest 'Polar'!