After losing over a week of tour time due to our breakdown along Hadrian's Wall and having Bluebell's motor re-built, my heart lifted as I arrived at the garage where she was being repaired to see her parked on the forecourt with our lorry waiting to take us to Ardrossan. We were due to be catching a ferry to the Mull of Kintyre that night, but there was still another twist in the tail to the breakdown saga.
I didn't have a chance to drive Bluebell properly until we arrived at Ardrossan and unloaded her, and it soon became apparent that all was not right - she was only driving at half speed, and juddering. I was left with no choice but to cancel my ferry and phone the company who'd been doing the repairs, who said they'd come out the next day. I was devastated as I watched my ferry sail away, wondering if this might even be the end of the tour.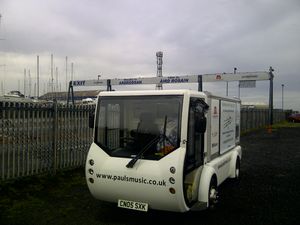 I spent a wet and miserable night in the car park of Ardrossan ferry terminal, but the next morning was bright and sunny, and I woke with a positive feeling that everything would be ok. The guys from EVS turned up just after 10am, and changed some settings on the controller, and BINGO, Bluebell was driving perfectly again! I re-arranged my ferry ticket so that I could sail straight to Arran and catch up on my tour dates, and arrived in the port of Brodick a few hours later. 
Arran is beautiful, with lush vegetation and varied scenery, rocky mountain tops on the east side, and a beautiful green peninsula to the west that looks like a huge dragon's tail. Brodick felt almost Mediterranean, with  everyone walking around in shorts, sailing boats in the harbour and palm trees gently swaying in the breeze. I found a campsite for the night, and the next day headed to the Ormidale Hotel in Brodick where I was due to be playing. I was well looked after, with a lovely evening meal, before performing in an orangery that was attached to the main bar. 
I had a big mountain to cross the next day on my way to catch my ferry for Islay. The sea was a translucent calm as I followed the road around the side of the island, and the rocky shoreline comes more or less to a stop at the coast road with huge boulders the size of cars lining the road. There are a wide variety of plants and trees on Arran including pine, beech, palms and rhododendrons, and I kept stopping to take photos as I passed the pretty fishing villages of Corrie and Sannox. 
The road became gradually steeper as we climbed for about 2 miles, and I had to go round a hair-pin bend and just hope there was nothing coming the other way. I could smell burning by the time we reached the top, but we made it. I stopped for half an hour  to let Bluebell cool down, and it  was a strange feeling surrounded by mist on top of mountains in a milk float in the middle of a Scottish island! We freewheeled the rest of the way round the side of the mountain into Lochranza, and managed to get a photo next to the ruins of Lochranza castle before reaching the ferry port.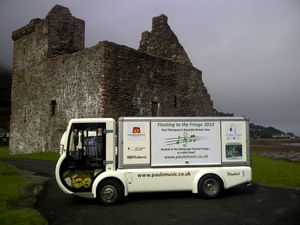 I'd always wanted to visit Islay as I'm a big Donovan fan, and he spent time living there writing an album in the 60s. When I arrived in Port Askaig, however, I knew there was no way Bluebell would make it up the steep hill that wound around the cliffs out of the port. I'd planned to travel to the other end of the island that night, and return the next day for my gig at the Port Askaig Hotel. Luckily, I was able to book in an extra night at the hotel in return for playing there, and had a lovely evening meal and then sat upstairs in the old-fashioned residents lounge looking out at the boats arriving in the harbour. 
After a huge cooked Scottish breakfast in the morning, I caught the bus over to Bowmore, which is the main town on the island. I've never seen such a happy bus, full of laughter and  locals saying hello to each other, and the icing on the cake must have been the driver stopping for 10 minutes to go and buy a newspaper! Bowmore has two main streets, with quaint fishing cottages, a quay, and distillery - a distinctive black and white building with a large tower, and  the air was sweet with the smell of whiskey. 
I had to be up early the next day to catch my ferry to Colonsay, a small island above Islay with a population of only 130 people. I loved Colonsay the moment I arrived, it had a tiny post office and shop with a boat out the front that children were playing in. I'd been booked to play at the village hall by Donald, who was waiting at the hall for me, and he helped me get set up for the evening performance. I was due to be staying at his house that evening further round the island and was invited for tea, so decided to do some exploring first and wedged my camcorder out of the window so that I could make a video of my tour round the island (I'm going to be writing some music to go with it when I get home).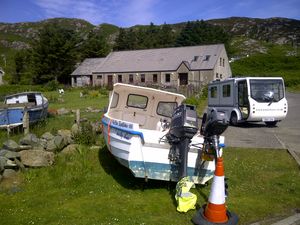 The single track road around the island was hillier than I'd expected, and I passed a couple of lochs and followed a small road to a remote beach,  with wide rolling waves surrounded by mountains. I made my way round to Donald and Carol's house, a croft which they'd built themselves on Donald's parent's land, a beautiful location up on a hillside overlooking  the sea. I was cooked a lovely meal, and then drove Bluebell back to the hall ready for the evening gig, which had a good turnout of locals and holidaymakers. After a late night coffee back at Donald's I got some well earned rest before setting off again the next day for Oban. 
I was due to be meeting another singer-songwriter, Jade Cuttle (aka
Rrose Selavy
, also doing her own
blog
), who would be joining me on tour for almost 2 weeks. I spent a night on a campsite just outside Oban, and after doing  a few running repairs on Bluebell headed back into town to meet Jade. After a quick stop for a coffee and chat we drove to our gig that night at the Barn Bar in Colgin.  We were soon out into countryside and mountains, following a single track road down to the Barn Bar which is at the end of a road in a fern covered valley. It was a lovely place to play for the night, a wood-cabin type building, with a veranda out the front with an outdoor wood burning stove. We didn't finish playing until past midnight, and after packing away sat outside with Donnie the owner and a few others playing a bit more guitar and chatting. 
Jade and I were both exhausted by the time we drove off about 1.30am and headed for the ferry port, where we'd decided to park up for the night as our ferry for the Western Isles was leaving at 7am. It was a 6 hour ferry journey to Lochboisdale, on South Uist, and I must confess I spent much of it in the toilet suffering from sea-sickness! On arrival we were pampered at the Lochboisdale hotel, and after a rest and a meal felt much better in time for the evening performance. 
North Uist is joined to the South island by Benbecula; it's a very rugged place and must be bleak in winter as it has virtually no trees, but it's also very pretty, with little  lochs (known as lochens) full of water lilies, and heather and wild roses growing by the side of the road. Our campsite for the following evening was Moorcroft Farm, just a few miles north of Benbecula, down a track overlooking the sea. After checking in I managed to drive Bluebell into a soft verge because I was looking at the view and got stuck! I had to get the owner to give us a tow after all the people on the camp site had come out and tried pushing her, but we were soon settled in for the night.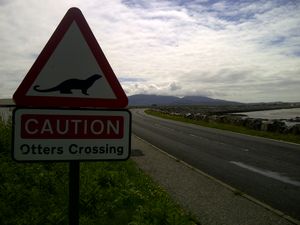 The next day we continued up the island to catch our ferry ride to Harris. The boat weaves in and out of large buoys through the sound of Harris, which is peppered with large rocks and tiny islands, with spectacular views beyond to the cliffs of Leverburgh and the imposing Harris mountains beyond. I had instructions from Annie, our host for the next few days on how to find her house, which is about 3 miles out of Leverburgh. 
We followed a deep gorge upwards and I wasn't sure if Bluebell would make it, but she just rallied, and as we came over the top of the hill we were greeted by an amazingly  lush valley looking over the sea with a medieval church on the horizon - Rodel - which reminded me of a scene out of Lord of the Rings with verdant hills and small streams running down the side of mountains into lochs. And this is where my journey so far brings me, all the way from Norfolk to the Outer Hebrides, and what a journey it's been...I'm still only half way through!