My feet ached almost as much as my jaws by the end of last week as I'd spent most of it walking round all the local shops and businesses in North-Norfolk telling them about my tour and opportunity of advertising space on the milk float. The good publicity from Radio Norfolk and the North-Norfolk News had obviously paid off as many of the shopkeepers I talked to already knew about the tour. 

The first person to sign up for advertising space was Brian Lewis, a Sheringham artist whose paintings are sold around the world. I'd known Brian for some time as he bought Beeston Hall, which had been used previously by my mum as 'Busy Bees' nursery school, and Brian aptly named it 'Bees Hall'.
 
Brian is a fantastic artist with an immediately recognisable style, and as an added bonus to signing up for advertising space he took me for a spin in his electric car which has incredible acceleration and can do 300 miles on a single charge, unlike my milk float with a top speed of 15mph and a daily range of about 30 miles!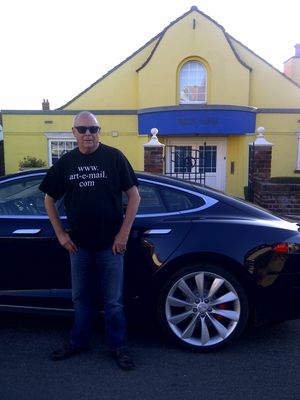 Brian Lewis outside his studio Bees Hall

The limitations of my chosen means of transport are proving to be a constant challenge, but one that I believe will ultimately make my journey a very special one. Milk floats normally charge up at a dairy with a 32amp socket, and it's taken a lot of working out how I'll charge it on my trip. The guys at CBL have hopefully come up with a way that I can charge up at 16amp sockets available at camp sites and Electric Vehicle Charging points, and my route is partly dictated by places I can stop to charge up for the night.
 
My research on the internet led to the discovery of the Cool Camping website, which has some wonderful camp sites around the country often run on 'eco principals', and that have charging points as well as some really cool features like yurts and camping pods. I've been talking to Cool Camping about the possibility of playing music at some of their sites, with my blog featuring on their website which would be fantastic.
 
I've started doing the bookings for the tour now, which is a lengthy process as it often takes people a while to get back to you and can be frustrating when trying to work out dates further ahead. That said, the reaction has been very positive with a few dates already pencilled in as far as Hadrian's Wall, and I've also started the application process for the Edinburgh Festival which is where the tour will conclude after 12 long weeks on the road.

Who would have thought a milk float could make it all the way from Norfolk up to there!
If you are interested in getting involved in the tour, booking me to play, or would like some advertising space on the milk float then please check out my Pledges Page. Help me get on the road in 2015!