After a good day's travelling from Barnard Castle, taking the A68 round the east side of the North Pennines, I knew that my next day's route would involve some pretty steep hills. On the advice of the campsite owner where I was staying that night, an ex-dairyman with a booming voice and ruddy cheeks (no cliché there then!), I decided to change my route and to cut across the top of the Pennines, which would involve an extra day's travel to get me to Hexham, but would hopefully avoid the steepest hills.
As somebody would later remark 'never trust a milk man!' The A689 across the North Pennines is spectacular, with views for miles across the moors towards Scotland, and I passed meadows full of cow parsley and buttercups with stone farmhouses dotted around. All was going well until I reached a valley just 3 miles short of my campsite. I didn't like the look of the climb up the far side of the valley so pulled over and let Bluebell cool down for a while, but even so she struggled as the hill wound on and upwards, and we finally ground to a halt about 200 yards from the top.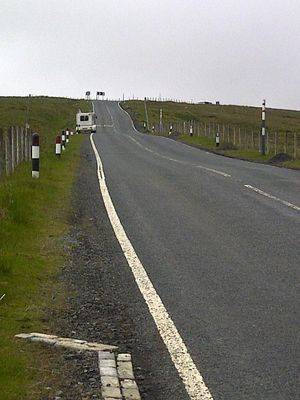 It was an isolated valley and I had no signal on my phone, but I'd spotted a farmhouse further back down the valley so I reversed down to a lay-by and then ran back to the farmhouse. It didn't look promising, as the gates had chains round them with a sign saying 'You Are Being Watched' and guard dogs were barking. A man eventually came out and I explained what had happened. He said he couldn't tow me but would phone the camp site, and left me standing at the gate. In spite of it being almost mid summer there was a bitter wind and I stood shivering, imagining all sorts of things as I waited in the deserted valley for news of my rescue.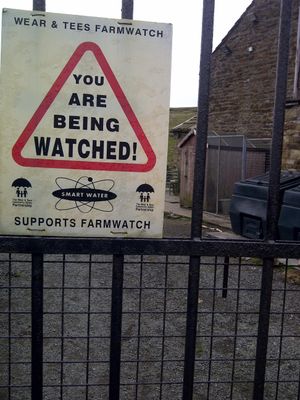 The man eventually came out again and said he'd talked to the camp site owner who was coming along with a friend who had a Land Rover. It wasn't long before Pete and Kathy turned up, and Bluebell was towed to the top of the hill, after which I was able to freewheel down to the campsite at the bottom of the next valley. Kathy treated me to several cups of tea and chocolate biscuits and even took me out in her car to check out my possible routes for the next day, and by the next morning Bluebell was fully re-charged and raring to go.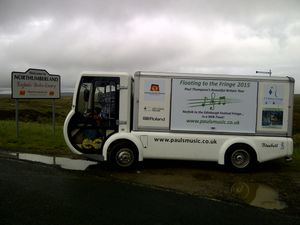 We passed through the pretty cobbled town of Alston (the highest market town in England) on our way into Hexham, and successfully ignored a stream of overtaking motorists on the final stretch of A69 into Hexham. We made it in plenty of time for my afternoon song writing workshop and evening performance at the Forum Cinema. A lovely married couple turned up for the song writing workshop called Jim and Joan who were in their early 70s, and I was treated to a guided tour of Hexham as part of my workshop which involves doing some walking meditation to help tune into the senses.  Jim and Joan said the workshop had been a revelation, and I admired them for having such open minds as they approached their twilight years.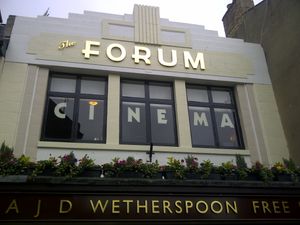 That night found me parked on a street in Hexham, charging Bluebell up through the window of a house. Marianne had kindly offered at short notice to help me out for the night as the only campsite I could find was up a really steep hill out of town. After a late night hot chocolate I fell asleep exhausted in Bluebell, and managed to sleep in until about 9am the next morning in spite of being in the middle of Hexham! I was elated at having crossed the North Pennines, but my joy was about to be short lived. 
I set off at mid-day for Once Brewed, a Northumberland National Park visitor centre along Hadrian's Wall, where I was due to be playing that evening. Little did I know that I'd chosen the hilliest route possible, following the Roman road from the town of Wall westwards. The Romans in their wisdom  built their roads in a straight line regardless of the terrain, and it wasn't long before Bluebell struggled to a stop halfway up a hill. I managed to get to the top of the hill after letting her cool down for a while, but after speaking to the staff at Once Brewed I was concerned that if I got stuck in a dip further ahead it might be dangerous as they said there were a lot of hidden dips.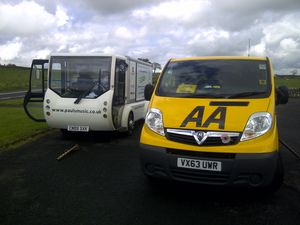 I was left with no choice but to phone the AA, and sat waiting for them in a car park feeling pretty miserable. By the time I'd been towed to Once Brewed Bluebell wouldn't start at all, and the AA man had to tow me into position - luckily I was camping the night in the car park anyway, and I was hoping that by the morning Bluebell would have cooled down and be ready to go again. I set up for the evening gig, and the staff at Once Brewed were really kind to me, making plenty of hot drinks. After playing  I watched a film on my small TV in the milk float, and fell asleep hoping that I'd be able to continue the next day. 
Sadly, there was no sign of life as I switched Bluebell's ignition on in the morning. I'd been given the number of somebody who serviced milk floats in the North East area, and  he said he'd be able to come and look at it later that day. After running some tests, Gary said that it looked like the motor had blown, and that the likely cause was being towed by the AA, which had overheated the motor to the point where it had damaged the coiling inside. The only hope was to take the motor out and have it re-conditioned, which would take 3 days. Bluebell had to be towed to a nearby garage to have the motor removed and I had to quickly remove some belongings so that I could check into the Once Brewed Youth Hostel next door. I was devastated as I watched my home and tour bus being taken away, unsure even if the tour would be able to continue. 
I had a gig to get to in Moffat in Scotland two days later, so decided to hire a car to enable me to fulfil my booking. The drive through Kielder Forest Park into Scotland was incredible, with huge forests, lakes and rivers winding through practically wilderness. It was a sad feeling crossing the border into Scotland without Bluebell but I was determined to come back for her and do my very best to continue the tour. I was playing a house concert that night at a guy called John Weatherby's house, who as well as being a fantastic host is also a professional sound engineer with his own recording studio, where I played to his friends that evening. I had them in stitches as I told them about my various breakdowns along the way, and felt uplifted at finally seeing the funny side of my troubles over the last few days.
John and his partner Mairi were a very gentle and relaxed couple, and they said I could stay as long as I needed to. It was great to be able to stay in the same place for a few days and re-charge my batteries (not just Bluebell's!). I spent a day with John setting up for a gig in a local village hall, and did some walking and catching up on my tour diary. I set off again the following Monday, back to the garage where Bluebell was being repaired. As I arrived my heart jumped for joy as I saw Gary driving Bluebell around the garage forecourt, but as he pulled her in to park I sensed there was something wrong. She could drive forwards, but not backwards! 
It turned out that the controller had blown a circuit due to being towed so far, and it would mean another delay of 3 days until the part could be ordered and replaced. So my journey has taken me back to Alston, where I've been staying at a YHA and making the most of the time by catching up on tour planning and also doing some walking along the incredibly beautiful Pennine Way. All being well the controller will be fitted tomorrow morning and I'll be taken with Bluebell on the back of a lorry to Ardrossan, where our adventure to the Western Isles of Scotland will begin.