Wednesday was a mad scramble of last minute packing before setting off in Bluebell for 3 month's travelling. I'd tried not to pack anything unnecessary, but somehow the items kept piling up; tool boxes, guitars, clothes, 10 gallons of deionised water for the milk float batteries, food, a PA system,  a guitar amplifier and a sofa bed, all crammed into the back of a milk float!
Finally I set off on the road from Baconsthorpe to Norwich, where I was due to be getting a live send-off from Radio Norfolk. Cars were tooting me on the way in as Radio Norfolk were already talking about me on the show, and Bluebell managed her first city adventure pretty well. Thordis, the Radio Norfolk presenter came out to do the interview and then I played a song.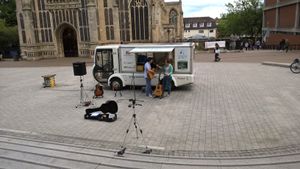 I had a nice night on a camp site just outside Norwich, and my brother came over to say goodbye. It feel a bit surreal eating the Chinese meal we'd ordered out of the back of the milk float! The next day took me towards Swaffham, where my tour launch was due to take place on the Friday night. I'd worked in Ashill, the village I was camped at, for a couple of years as a carer, and Lillian a fellow carer cooked me a roast meal and baked me a sponge cake to take with me!
Well watered and fed I made my way on the Friday morning to the Green Britain Centre, ready to teach a song writing workshop to a group of 20 schoolchildren. We were treated to a tour to the top of the wind turbine which was pretty spectacular, and then went back to the centre to do some song lyric writing with the children. 
After checking in at my campsite for the night I returned to the Green Britain Centre to set up for the evening gig. We managed to get Bluebell parked right against the performance area, so that the hatch opened up into the room , which gave a nice sense of intimacy to the performance. I had two really good supports acts playing as well, and the evening was a lot of fun.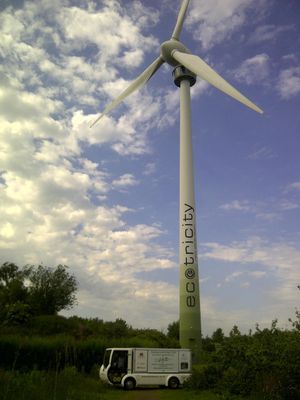 Saturday was a bright sunny morning and I took the back roads through Thetford Forest towards Wisbech. Apart from a couple of cyclists and a horse rider I didn't see much traffic at all, and just enjoyed travelling at 15mph or so, taking in the scenery. The cab of the milk float is high up, and has a huge wide screen that means you get to see a lot more than you would normally from a car. I kept smiling to myself at the weirdness of my adventure, in the middle of nowhere on my way up to Scotland...in a milk float! 
I played an impromptu set at my next destination, The Secret Garden campsite in Wisbech. Neil and Leslie were a lovely couple who ran the place, and had made it very child-friendly with fire pits for toasting marshmallows, and wildlife areas. As there was also a beer and sausage tasting event I felt it would be rude not to join in, and ate 4 hotdogs after playing music for an hour! 
I'd travelled quite a long way to get to Wisbech (30 miles is  a lot for a milk float!), and had an easy day on Sunday, ambling through the Lincolnshire Fens to the Bluebell Inn at Whaplode St Mary. It was really hot by the time I arrived, so I got out my camping chair and had a bit of a doze and then ate a meal in the pub adjoining the campsite.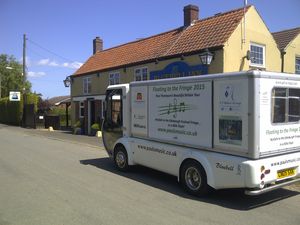 Monday was a long but fairly flat ride to Tattershall Lakes, further into the fenlands. Whoever said all of Lincolnshire is flat has obviously never been to the Wolds, as I was about to discover the next day. Woodhall Spa marks a transition from flatlands into a rich, hilly countryside that reminded me more of Devon than my preconceived idea of Lincolnshire. On the road to Louth I came up against a hill called Scramblesby that just seemed to go on and on, getting steeper as it rose. Bluebell was slowing down until she came to a complete standstill about 50 yards from the top. I could smell burning and didn't know what to do, and wasn't sure if I'd done some permanent damage. 
After a couple of minutes I switched on again and Bluebell crawled to the top of the hill, where I found a grass verge to park on. I phoned the company that I'd bought Bluebell from who said to give it an hour to let the motor cool down - it had been red hot when I felt beneath the cab, but sure enough after an hour it was cool, and Bluebell started again as if nothing had happened. I found my campsite at Binbrook with much relief and spent the evening topping up the batteries and generally taking good care of my beloved milk float!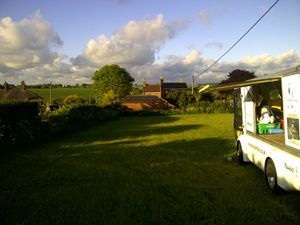 On Wednesday I gradually descended from the Wolds to more gentle countryside, and found another farm to stop for the night. I almost took a wrong turning on the way into Humber Airport which would have been interesting! That evening I cooked my first proper meal inside Bluebell on my gas stove, a fish stew and a great success it was too! It was nice sitting by my  stove looking out at the wide valley and woods beyond, and watching swallows flying in and out of the barns. I felt very at peace, and relieved that Bluebell had survived her first major hill of the tour. I wouldn't be taking the next one so lightly! 
Tonight I'm sitting next to my lamp (powered by my solar panels), finishing writing my first week's adventures. I feel as though I'm living in a very pleasant dream at the moment, which could well be supported by the fact that my current place of refuge is an Alpaca farm in a place called New Holl overlooking the Humber Bridge, which I shall be crossing in two days time on my way ever closer to Scotland.