Far Ings Nature Reserve on the banks of the Humber was a lovely venue to play music. After spending the afternoon helping the staff to fence off some Bee Orchids, we had some pizza and set up ready for the evening performance. I was playing upstairs in the visitor centre, which had huge windows overlooking the Humber Bridge and estuary, with geese flying past as the light changed and night set in. It was quite surreal driving back to my camp site later that night through the streets of Barton-Upon-Humber (I managed to get lost!) with the bridge lit up in the background.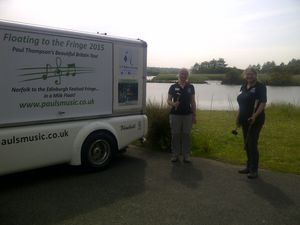 The next morning was wet and windy as I crossed the Humber Bridge. A sign at the start said 'Unusual Loads Please Stop And Phone For Permission To Cross'. I wasn't sure if I fell into this category, but as the toll booths were on the other side of the bridge I decided to just go and worry about any questions later. In spite of the rain it was still a spectacular crossing, and the lady at the toll booth just smiled when she saw me and said 'I've never seen one of those before'.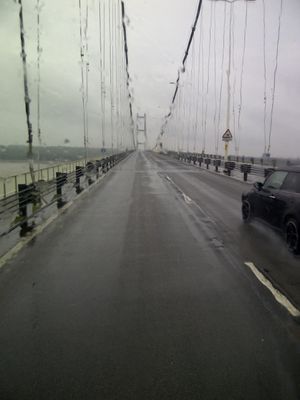 This would be the longest journey of my trip so far, 40 miles to Naburn Station where I was due to be playing music that night. The first part of the journey was treacherous, going uphill on the A63 for mile after mile with a constant stream of lorries overtaking me in the rain. I was relieved to turn off onto a B Road, and was soon out into the Yorkshire countryside, with gentle hills and farms dotted about. I was made very welcome at Naburn Station by the owner Ann, who also works for a national cycling charity called Get Cycling. The hostel is next to a cycle track following the River Ouse, so attracts a lot of cyclists, and is a hidden gem. 
On Sunday I set off about mid-day for The Hideaway at Baxby Manor, a glamping site in Husthwaite just above York. I stopped on the way to visit Simon, another milk float eccentric who had travelled around the country in a pink milk float with a mobile printing press. He showed me a couple of inventions that he'd designed, including a pedal powered electric generator that 6 people could sit on to get his sound system pumping out music!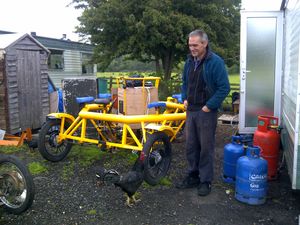 Bluebell negotiated her way around York without any problems, and we followed a B Road through some lovely Yorkshire villages, with old pubs and churches made from thick sandstone and traditional village greens. The Hideaway at Baxby Manor was a beautiful camp site nestled in a valley, and I was given a camping pod to stay in for the night that had windows at eye level with the meadow looking out on wild flowers. After cooking myself some tea, I set up for the evening performance and played outside to the campers and some locals. The nights were really cold still, and I had to pile all my blankets into the camping pod to keep warm, but it was very peaceful and I slept well.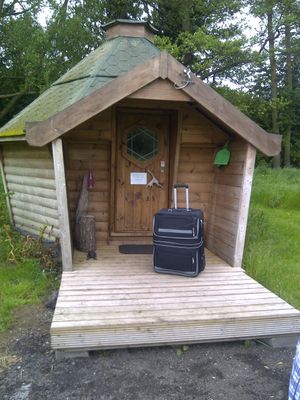 My next gig was at the Witham Arts Centre in Barnard Castle, which took 2 days to get to, travelling at a leisurely pace through more Yorkshire countryside that became gradually hillier as I approached Barnard Castle. After a brief stint on the A66 (about 30 cars in a line behind me in just 5 minutes - impressive!), I floated up and down the remaining hills into Barnard Castle late in the afternoon on Tuesday. I had to get some charge in the milk float so that I could get to a radio session later that evening with Liz Franklin on Radio Teesdale, and stopped at my campsite to get enough power in the batteries. 
The climb out of the campsite was quite steep, and as I approached it a horse rider was on the hill so I had to slow down, and then Bluebell couldn't make it to the top. I started to panic slightly as I was already late, and I had to reverse back down the hill and take a run-up to get over - luckily Bluebell just made it, and when I arrived at Radio Teesdale Liz and a couple of other musicians were waiting at the door with big grins on their faces! I had a nice time on the show playing some of the songs from my new CD and talking about my adventures so far. Liz said she would be along the next night to watch me play at the Witham, and after a photo session with a giant cardboard cow (don't ask how it ended up in a radio station!) I headed back to the campsite.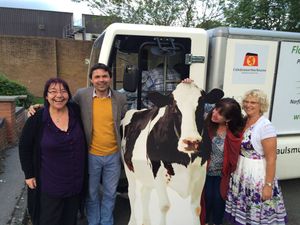 I arrived at The Witham in plenty of time to prepare for my song writing workshop that I was due to be running for a group of mixed age music students from a local school. They were a great bunch of kids, very supportive of each other and open to learning new ideas and approaches to song writing. We went for a walk to the castle to help inspire them to use their senses in their song lyrics, and then returned to the Witham to do some writing. 
After doing an interview for BBC Radio Tees, I set up for the evening performance. SamH, my support act for the night turned up with a friend, and we met Angus and Margaret who had kindly offered to put us all up for the night. We had an appreciative audience at the gig, and went back to Angus and Margaret's house afterwards for some supper, and my first night's sleep in a proper bed for almost 3 weeks. We were treated to breakfast cooked by their grandchildren the next morning and Angus kindly took us for a guided walk around Barnard Castle before we went our separate ways. I still had a long way to go before reaching Hexham, which would involve crossing the North Pennines - the biggest challenge of my tour so far.