After leaving the Isle of Skye, Bluebell and I made our way towards Dingwall, near Inverness, where we had several gigs lined up thanks to music promoter Rob Ellen. I'd first made contact with Rob through the European House Concert Hub, which he runs to help connect singer-songwriters with music fans who want to host concerts from their own home. Rob loved the idea of the milk float tour and was really helpful in supplying me with some leads for gigs.
 
As well as playing the Greenhouse in Dingwall, I did a house concert in Strathpeffer, a support slot in Ullapool for Canadian singer-songwriter Kenny Butterill, and a late night gig at the Market Bar in Inverness, famous for being the place where the Proclaimers first built up a following. Rob also presents a radio show once a week on Lochbroom FM with the most amazing green room overlooking mountains, which I sat gazing out at and drinking tea before doing my interview - what a way to relax before going on-air!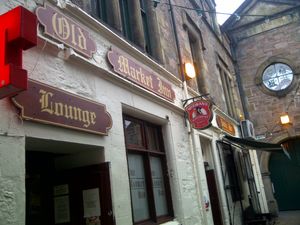 Next up was Belladrum Festival, one of Scotland's premier music festivals, based on a beautiful farm about 25 miles from Inverness. I'd been booked to perform and also run a music stage from the milk float. This was the first time I'd done a full day of music using power from  just the solar panels, and I was proud of Bluebell who was still pumping the music out into the evening. We had some great acts playing over the weekend, and it has  inspired me to get to more music festivals in the future, using Bluebell as a mobile stage.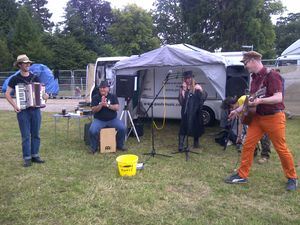 Belladrum is only about 10 miles from Loch Ness, but the road leading to it also has one of the steepest hills I'd come across on the tour so far. Luckily I didn't have to climb up it as I was going downhill, but it was so steep I had to ram my foot on the brake as hard as I could as the  smell of burning increased as the hill went on and on, and I was thinking surely it must come to an end soon and then it would continue round another bend with smoke rising around me as I went!
 
The traffic along Loch Ness was horrendous and I had a continuous line of irate holidaymakers behind me most of the way. I reached a campsite at the foot of Ben Nevis on the day before my birthday, and decided to climb Britain's highest mountain the next day to celebrate. It felt somehow symbolic of my journey so far, which had been full of ups and downs, but in spite of the odds I'd kept going and made it all the way from Norfolk in my humble milk float Bluebell.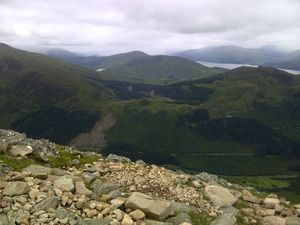 I got up the next morning at 5.30am to avoid the holiday traffic and drove up Glen Coe. It's one of the most special areas of Scotland, and I felt privileged to be able to see it in such a unique way. The road through Rannoch Moor is also incredible, with wide expanses of heather-clad moors bordering huge mountains and layer upon layer of lochs as far as the eye can see. I stayed with a friend in Perth for a couple of nights before making the final leg of my official tour, across the Forth Bridge into Edinburgh.
 
The last 2 weeks have flashed by, with performances every day around the George Street area of Edinburgh, where I'd been booked to play as part of the Fringe Festival. I had some great guest acts playing daily, and we would cram into the milk float with all manner of instruments, on one occasion even with a trio who had a double-bass hitting the ceiling of the milk float! I also managed to attract the attention of STV, who were putting on a show every night featuring the best highlights of the Fringe. The producer was quite taken by my story and sent a cameraman out to film and interview me, and I also performed my song 'Flights of Geese'.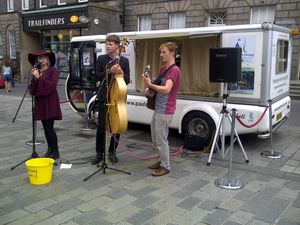 Although 'Floating to the Fringe 2015' officially ended in Edinburgh, I've applied for a Guinness World Record for the longest journey made by  milk float, and have decided to keep driving back to Norfolk to increase my chances of entering the record books. I'm currently plotting my route back, and am glad to report that I can hopefully make it home in about 2 weeks, taking the flattest route along the east side of the country from Berwick down to Newcastle, and then across the North York Moors towards the Humber Bridge and round the Wash back to Norfolk for a well earned rest.